Administration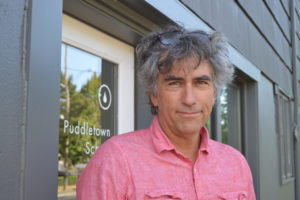 Sam
(he/him) is a co-founder and Head of Puddletown School. He graduated from a Quaker college with Majors in Art, English and Journalism and a Minor in Education. After working in more traditional educational settings, he volunteered in a Montessori classroom on the Oregon Coast to develop an immersion program for Spanish speaking students. He went on to get his Montessori Primary Certificate from the
Montessori Northwest
and a Master of Education from Loyola University in Baltimore and has been invested in Montessori Education since 1996. Sam began teaching in Connecticut at an inner city Montessori school with the Hartford Public School system becoming involved in the planning and development of the Learning Corridor with Trinity College. After returning to the Pacific Northwest he taught at in an Elementary program and worked to establish a Montessori middle school.   Eventually the desire to return to the primary classroom and a willing partner led to starting our current program.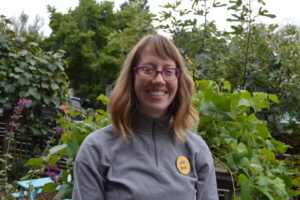 Erin
(she/her)  is Puddletown's Assistant Head of School. She's been volunteering as a parent since 2013 and working as a staff member at Puddletown since 2017. She is a former therapist to children and families. Erin has an MS in Counseling Psychology from Lewis and Clark Graduate College and a BA in Political Science from Barrett Honors College at Arizona State University. It was at Lewis and Clark where her interest in Montessori sparked, and she graduated knowing that she really wanted any of her future children to attend a Montessori program or school. As soon as she met Sam and Andrea, then the lovely teaching staff at Puddletown, she knew this was where she wanted her kids to stay, and for as long as possible. She wishes for and wants to work toward the Montessori experience being available to all children and interested families. Erin has a long history in research (marketing and scholarly), making her inquisitive, efficient and organized. She's slowly run a marathon and many halves, played roller derby competitively across the  country, and now is well practiced at home improvement projects, singing camp songs and playing elaborate rounds of charades with her three fantastic children (all Puddletowners) and thespian-at-heart husband, Eddie.
Amy
  (she/her) is the Primary program coordinator and during our emergency childcare operations she is also the lead guide in our half-day Sunflower classroom. She joined Puddletown in 2007 and was the lead guide in the Sage classroom for 11 years. She graduated Summa Cum Laude with a BS in Social Science and received the AMI Primary teacher training in 1998 at the
Montessori Education Cente
r of
Arizona
. Amy began her exploration with children in the Montessori context in 1994 as an assistant and enjoys learning new things from them every day. She enjoys gardening, sewing, baking, backpacking, hiking, camping, reading, knitting, travel and finding humor in every day events.
Preschool/Kindergarten
Sunflower Classroom
Corinne (she/her) is the assistant in the Sunflower room and the distance learning guide for the Sunflower room.  She received her Bachelor of Arts in English from the University of Oregon, her AMI 3-6 training at Montessori Northwest, and her Master of Education from Loyola University. She has held various Montessori positions over the years, happily devoting her adult life to "education for peace". She was in Montessori as a child, and has loved sharing Montessori with her child who is a 6th year in Madrone. Corinne likes to visit family on the Oregon coast, spend time by the ocean, cuddle her pets, read immersive escapist fiction, and explore children's books.
Sarah (she/her) is the lead guide in the Sunflower classroom. earned her AMI Diploma from Montessori Northwest, in conjunction with a M.Ed. in Montessori Education from Loyola University.  For over a decade, she has worked in various educational settings from early childhood through adolescent programs, dedicating herself to the Montessori approach since completing her Montessori teacher training in 2014.  Sarah is inspired by the very children she works with to strive to be a better teacher (and human) each day.  She values learning how to best support the whole child through a trauma-informed, anti-bias and anti-racist lens. She is learning and growing alongside the children each day. Outside of school, Sarah loves spending time with her husband and dog; baking; pulling weeds in the garden; hiking in nature; and staying engaged in mutual aid projects surrounding food insecurity and houselessness in our community.
Lavender Classroom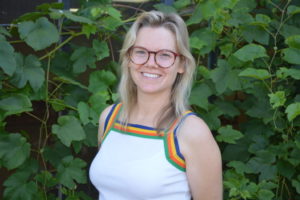 Emmy
(she/her) has been the lead guide in the Lavender classroom since 2014. Before joining Puddletown as the assistant in the Lavender classroom in 2011, she worked in varied environments caring for children, including day care, day camp and nanny work. She received a BA in Psychology from University of Hartford. Once arriving in Portland from the east coast,  she received her AMI diploma from
Montessori Northwest
in Primary Education. Emmy is committed to the essence of the Montessori method and believes in the marvel of the true nature of the child. She spends her free time cooking, walking, knitting and sewing, hanging out with her dog Louis and has a newly sparked interest in maintaining an edible garden in her backyard.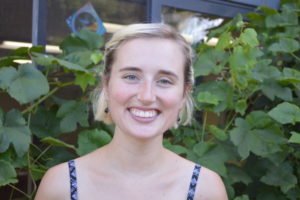 Lindsey (she/her) is the assistant in the Lavender classroom.  She grew up in Corvallis and graduated from Macalester College in Minnesota in 2016 with a degree in linguistics. She has lived (and worked with children) in Chile, Spain, and France, and she enjoys bringing those experiences into the classroom. After discovering Montessori during a school photoshoot, Lindsey began working as a substitute at Puddletown in 2018. She has always been inspired by the irrepressible curiosity and infectious spirit of children, and she feels very lucky to spend her days learning with them.
Sage Classroom
Riley
(she/her) is the lead guide in the Sage classroom. She has been looking forward to being a primary guide since she was a child in a Montessori primary classroom in Seattle many years ago. As a student in a Montessori environment, Riley gained skills like self-motivation, collaboration, logic, and self-evaluation. She is happy to be sharing these experiences with children in her work today.  Riley graduated from Boston University
summa cum laude
 with a degree in Anthropology and a minor in Earth Science. In 2016 she completed the AMI Primary training at
Montessori Northwest
, and a master's degree at Loyola University. Riley lives in SE Portland. She enjoys exploring the neighborhood and sharing delicious meals with friends. Riley likes to paint, read, sing, and tell jokes. She has a dream to write and illustrate a children's book someday!
Celine (she/they) is the assistant in the Sage classroom. She moved to Portland from San Diego in 2013 and has been nannying and teaching in toddler classrooms ever since. She first became familiar with Montessori through her roommate who was doing her primary training and immediately felt a connection. She started subbing at Puddletown in 2017 and fell in love with the community and the Montessori method. In her free time, she enjoys embroidering, cooking, and camping.
Elementary
Douglas Fir Classroom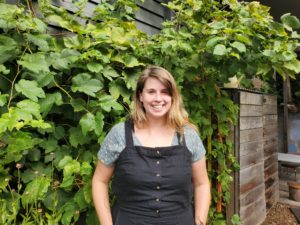 Ali
 (she/her) is the lead guide in the Douglas Fir classroom. Before joining Puddletown, Ali spent 4 years working in public Montessori. She was born and raised in Columbus, Indiana and graduated from DePauw with a degree in environmental geoscience. In 2016, she moved to Portland for a position at a public Montessori school as an assistant in an upper elementary classroom. She then completed her AMI Elementary training and Masters of Montessori Education from Loyola University Maryland. As an educator, she is motivated by community, connection and empowerment. In addition to teaching credentials, Ali has experience utilizing restorative justice and anti-racist anti-bias practices. When she's not teaching, she is making art, hiking, reading or enjoying the company of my rabbit, Peony (a former class pet who liked being a house pet more). My partner and I love spending time exploring all the great nooks and crannies Portland has to offer, both indoors and outdoors!
Madrone Classroom
Zil
(she/her) is the upper elementary guide in the Madrone classroom. She was a Montessori child, attending an AMI school in the suburbs of Chicago from ages 3 to 12. Upon graduating from Wesleyan University with a degree in Anthropology, she began working as an upper elementary teacher in Phoenix, Arizona and discovered that teaching is her passion. She has worked with children in many capacities over the last 14 years and is delighted to be part of the Puddletown community. In addition to her BA, she holds AMI elementary and primary diplomas and an MEd from Loyola College of Maryland. Over the years Zil has traveled extensively in Central and South America, leading to her involvement in establishing one of Guatemala's first Montessori schools. In her free time, Zil loves to do yoga, cook, read, and play with her daughter, Luna.
Support Staff
Andrea
(she/her) is a co-founder of Puddletown School. She received her Bachelor of Arts in English Literature and Creative Writing from Colorado State University. After graduating she headed a creative writing and arts program at a local Fort Collins, Colorado preschool. Andrea then moved to Portland where she began assisting and teaching at the Northwest Children's Theater. She returned to school in 2001 to receive her Montessori certification from
Montessori Northwest
and a Master of Montessori Education from Loyola University. She has worked with many Portland public schools and local Montessori schools through outreach and other after school programs. Andrea has served on the Oregon Montessori Association Board. Since stepping back from her role at Puddletown, she started
showstopper cookies
! In her free time she enjoys baking, walking her dog, traveling, reading and swimming in the ocean.
Michael runs the aftercare program and works as support staff. He is known lovingly by staff and community as the Nap Master due to his gift for lulling restless nappers into dreams and creating a gentle, relaxing atmosphere. Michael writes poems and stories for children (and grownups) and has produced a spontaneous musical album cassette tape ("The Pompatus Lives") and a collage book titled "From Puddletown to Universes Beyond" for (and with) the children of Puddletown. He finds kinship in the Montessori Method and with the teachers at Puddletown school. Michael is currently developing a press and production company called Cloudbound which aims to bring imaginative learning, music, poems and storytelling to children of all ages.