ADMINISTRATIVE AND SUPPORT STAFF

Andrea is a co-founder of Puddletown School. She received her Bachelor of Arts in English Literature and Creative Writing from Colorado State University. After graduating she headed a creative writing and arts program at a local Fort Collins, Colorado preschool. Andrea then moved to Portland where she began assisting and teaching at the Northwest Children's Theater. She returned to school in 2001 to receive her Montessori certification from Montessori Institute Northwest and a Masters of Montessori Education from Loyola College. She has worked with many Portland public schools and local Montessori schools through outreach and other after school programs. Andrea serves on the Oregon Montessori Association Board. In her free time Andrea enjoys baking, walking her dog, reading, and swimming in the ocean.
Sam is a co-founder of Puddletown School. He graduated from a Quaker college with Majors in Art, English and Journalism and a Minor in Education. After working in more traditional educational settings, he volunteered in a Montessori classroom on the Oregon Coast to develop an immersion program for Spanish speaking students. He went on to get his Montessori Primary Certificate from the Montessori Institute Northwest and a Masters of Education from Loyola College in Baltimore and has been invested in Montessori Education since 1996. Sam began teaching in Connecticut at an inner city Montessori school with the Hartford Public School system becoming involved in the planning and development of the Learning Corridor with Trinity College. After returning to the Pacific Northwest he taught at in an Elementary program and worked to establish a Montessori middle school.   Eventually the desire to return to the primary classroom and a willing partner led to starting our current program.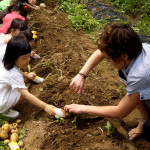 Bodeene springs from Ottawa, Canada, where she received her Bachelor of Arts in History and Graduate Diploma in Documentary Film Production. She has been joyfully dwelling in idyllic Portland, Oregon since the Spring of 2011, and earned her AMI Montessori Primary Diploma in June of 2013. She has taught in Québec, South Korea, and Prince Edward Island, and has nannied in Finland and Oregon; she respects and honors the light the child and believes wholeheartedly in the power of the Montessori Method. A social introvert, Bodeene is an avid reader, photographer, and yogi. She endeavors to live each day harmoniously with reverence for all life. Bodeene is an assistant at Puddletown School and runs the after care program.
SAGE CLASSROOM


Amy is the lead guide in the Sage classroom. She graduated Summa Cum Laude with a BS in Social Science and received the AMI Primary teacher training in 1998 at the Montessori Education Center of Arizona. Amy began her exploration with children in the Montessori context in 1994 as an assistant and enjoys learning new things from them every day. She enjoys gardening, sewing, baking, backpacking, hiking, camping, reading, knitting, travel and finding humor in every day events.
Jane is from Minneapolis, Minnesota, but moved to Oregon in 2006 to attend the University of Portland, where she graduated with a B.A., double majoring in Spanish and Communication studies.  She is a fifth-generation teacher, but the first ever in her extensive lineage to become AMI certified as a Montessori Primary Guide.  She completed her training at the Montessori Institute Northwest, and will earn her M.Ed from LoyolaUniversity during summer 2012.  If she's not at the dog park playing with her Lab puppies Stella and Harlow, Jane can be found reading a good book, sewing, thinking about future travel destinations or trying to prepare a new scrumptious dish. Jane is  the assistant in the Sage classroom.
LAVENDER CLASSROOM


Emily is an AMI primary trained teacher who is in the process of completing her Masters in Education from Loyola College. She has been working in the field of education since 1995 and in Montessori since 2002. She has taught in Montessori classrooms in Alaska, Seattle and Portland and in various other education programs in Minnesota. Wisconsin, South Dakota, and Oregon. Emily is a singer songwriter, and outdoor enthusiast, and sustainability advocate with a strong interest in natural health and herbs. She enjoys working with children and setting up an environment where they can happily do things for themselves. Emily is a teacher at Puddletown School in the Lavender classroom.

Emmy is the assistant in the Lavender classroom. She has varied and extensive experience caring for children, including day care, day camp and nanny work. She received a BA in Psychology from University of Hartford and recently traveled from the east coast to Portland, where she received her AMI diploma from Montessori Institute Northwest in Primary Education. Emmy is committed to the essence of the Montessori method and believes in the marvel of the true nature of the child. She spends her free time cooking, walking, knitting and sewing, and has a newly sparked interest in maintaining an edible garden in her backyard.
CEDAR CLASSROOM

Welyin is originally from Wisconsin though he received his AMI Primary training here in Portland and is currently working towards his Master's of Education at Loyola College in Maryland. He received his Bachelor's degree at the University of Wisconsin, Eau Claire in American Indian Studies and Japanese language. He worked at Puddletown for a year and a half as an assistant and is returning in fall of 2011 to be the guide for the new Cedar classroom. He is the proud father of a Ronan who will be starting at Puddletown in 2012. Weylin has many hobbies and interests including the martial art Aikido, hunting, fishing, gardening, backpacking and reading. Weylin is enthusiastic about his work and enjoys being a helpful part of the families and children's lives.
Jaasiel is a native Oregonian and grew up in Forest Grove. She grew up dancing and graduated from The School of Toronto Dance Theatre in 2007. She has danced professionally in contemporary modern dance companies in Portland, and currently enjoys her exploration in improvisational dance forms including Contact Improvisation. In 2009 Jaasiel moved into an eco-community that has offered her opportunities for personal growth as she practices Nonviolent Communication and gathering around a common value in environmental consciousness. Jaasiel started working at Puddletown in January 2009 and is deeply thankful for the support the community has offered her. She is currently pursuing her teacher training as  at the Montessori Institute Northwest. Jaasiel is the assistant in the Cedar classroom.